Avant-pop songstress NAVA released her latest single, 'Gaz' on the 22nd of April via Oyez! The song was produced by 555n (an AI art, sound art and music production project created by artist and composer Gadi Sassoon) and mastered by Alex Trecarichi at Monodynamic Studio in Milan, and follows the release of her previous single, 'Senti'. The singer has earned support from around the world with publications such as i-D Italy, FLAUNT Magazine, The Line Of Best Fit, CLASH Magazine, Kaltblut, Rolling Stone Italy, Metal Magazine, EARMILK, Il Fatto Quotidiano, and RockIt amongst others as well as airplay from BBC Radio 6 Recommends and Tom Ravenscroft, BBC Lancashire's On The Wire Show, BBC Merseyside, Worldwide FM, The Wire's Rewired Show on NTS Radio
 and KEXP to name but a few
.
Tehran-born and Milan-based, this year marks a new era for Nava Golchini as she approaches her creativity with a different perspective – learning to balance her Persian and Italian sides. As she embarks on this adventure, NAVA finds inspiration in the works of Sevdaliza, Sega Bodega, Arca and Rosalìa while her own sound can draw parallels to the stylish works of Arca, Grimes and MØ.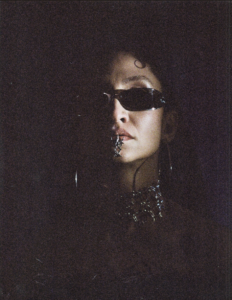 Futuristic elements meld into the world of pop as we're introduced to NAVA's latest enticing single. Telling the tale of a menacing siren calling to her prey, 'Gaz' manages to combine mysticism with a forceful, in-your-face attitude highlighted by glitching basslines and sultry vocals.
Speaking of the single, NAVA explains: "With Gaz I was able to explore my Persian roots on a whole new level. It's so strange because when we were in the studio the first time working on the track, the beat we started from had quite a Persian flair to it. I was quite surprised because when I was jotting down the melody for the chorus, only Persian words or idioms came to me! And like always, I let the creative process flow because it's the most honest."
What's your reaction?
0
cool
0
bad
0
lol
0
sad