Have you prepared your summer playlist yet?! 🌞 Here's our roundup of weekly picks to feast your ears on…
Track 1 (Rap)
K5ive – "Love Don't Change"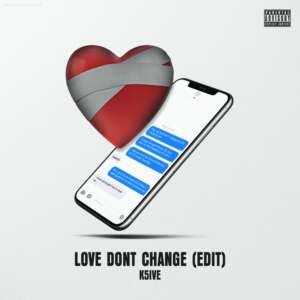 K5ive is an exciting new artist coming out of Nottingham, UK. His music draws influence from life events and his love for UK Garage, Grime, Rap and especially RnB Soul. His melodic flows are set to capture the world. Here we see the artist reminisce on his past experiences of relationships and heartbreak on a Lo-fi drill beat!
Track 2 (Pop)
Telaport – "Don't Wait"
Telaport is talented innovative duo: D'Lannie and Stevie Ray C. Reigning from Texas, the couple's unique blend of genres and nostalgic beats gives their music a sonic twist that appeals to global audiences. Their first collaboration as a duo, Ghost Friends was released in March of 2022. From writing songs, producing tracks, and creating music videos for their latest project, Telaport uses their experiences growing up in diverse family environments, along with the influence of their hometown, to create a fresh sound that is a mix of pop, rap, EDM and R&B. D'Lannie and Stevie also have filmmaking set in their sights and plan to create cinematic-themed projects expanding on Telaport's sound, story, and history. With a clear vision and set purpose, they continue to trailblaze their own lane in the music industry, one creative project at a time.
Track 3 (Balearic Funk)
Lexsoul Dancemachine – "Lazy Breeze"
Estonian 6-piece Lexsoul Dancemachine release new single and video "Lazy Breeze", a Summery Balearic funk tune that anticipates their upcoming EP Lex On The Beach out in June.
Track 4 (Rap)
JBEE – "Talking Stage"
Following the massive hit '4AM', rising London rapper JBEE drops his new single, 'Talking Stage'. The Lofi-drill production provides the perfect backdrop for JBEE to showcase his knack for melody, sincere storytelling, and rapping, confirming why he's a front runner in the next-gen coming through. See the visualisation for 'Talking Stage' via the link below:
Send us your feedback on this week's tunes via our socials. Have a fab week all!
What's your reaction?
0
cool
0
bad
0
lol
0
sad