FOMO addresses that familiar feeling of not wanting to miss out on a good thing!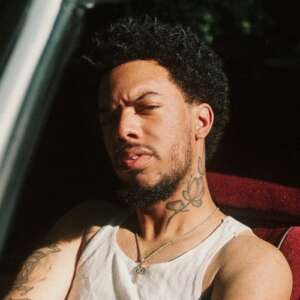 Check out what SoulBounce had to say about this Elhae:
"One thing about singer-songwriter ELHAE, he's gonna give you a hit. Whether teaming up with the likes of Masego and Rick Ross or venturing out solo, he's sure to pull you into his world of cool vibes and catchy vocals.
For his latest single "FOMO," he addresses that familiar feeling of not wanting to miss out on a good thing. ELHAE joins forces with co-writers Cam Wallace and Channel WYA to capture the moment when feelings of lust transition to a desire to lock it down.
Over the Ayo-produced track, he sings "I got a fear of missin' out / I might just take a different route (yeah, yeah) / But I've been thinkin' different 'bout you / After all this time we've been around."
"FOMO" marks ELHAE's first solo release since dropping the third installment of his EP series Aura III earlier this year. Though he suddenly paused his tour in support of the project last month, he thought more of his adoring fan base than to simply leave them hanging. Though he offered no explanation for the abrupt hiatus, in addition to gifting us with this latest bop to groove to in the meantime, he's assured his following that he's hard at work on new music and has a lot planned for the new year.
Listen to ELHAE's "FOMO" and don't miss out on adding the track to your collection from your preferred digital platform. For even more ELHAE, tune in to the 2021 Soul Train Awards on Sunday, November 28th to see him perform on the BET Amplified Stage."
We're digging this track hard in the office and expect you will too but let us know what you think over on our socials!
Have a great Wednesday everyone.
Written & Researched by Max Dervan
What's your reaction?
0
cool
0
bad
0
lol
0
sad