Reggae sensation Koffee has released visuals for West Indies—the first single from her upcoming debut album which will be released via RCA Records in 2022.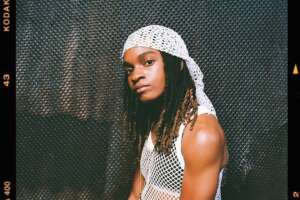 The groovy singer, 21, released the video today with a slew of West Indian cameos including her mom Jo-Anne Williams, and Reggae and Dancehall artists Prettii Prettii, Leno Banton, Tessellated, Jesse Royal, and Yaksta. The visuals were co-directed by Meji Alabi and Koffee, herself.
"Coming from the West Indies and we giving them the best indeed," Koffee sings in the song produced by Iotosh, who also recently worked on Jesse Royal's Rich Forever, Lila Iké's Solitude, Protoje's Self Defense, and Jah9's Note To Self.
There is one line, however, that may have Dancehall fans' heads turning: "New Bank robber nuh Bridgets pon feet," which is a counteraction to Shenseea's Bridget's & Desert (Pon Foot) collab with Tommy Lee Sparta.
Bridgets are a popular sandals company in Jamaica, while the "Bankrobber" is slang for a line of the UK's Clarks Shoes.
The Clarks ambassador, who became the first and youngest woman to win the Grammy for Best Reggae Album with her Rapture EP, said on her Instagram earlier today that her latest effort is a "gift to the Caribbean".
West Indies is Koffee's first release in a year; her last was the Pressure (remix) with Reggae icon Buju Banton in October 2020. Her 2020 summer anthem Lockdown surpassed one million streams on YouTube within two days, edging her peers to debut at No. 1 on the global iTunes reggae chart and the Jamaican YouTube charts. The song went to No. 1 in over 6 countries on Apple Music.
What's your reaction?
1
cool
0
bad
0
lol
0
sad