Ground-breaking saxophonist NiftySax released his latest double album, Spheres, on the 4th of February 2022 via Legato Music which contains carefully crafted 55 tracks.
On the LP, listeners will find the ethereal 'Shaula' which was released as an Instagrat along with the track, 'Proxima Centauri' on the 28th of January. The classically trained artist established a firm name for himself as Milo Lombardi in the jazz community and has performed throughout Europe. It was during this time that he ran a highly successful crowd-funding campaign which would help him release the Going Nowhere (Enjoying the Ride) LP. More recently, however, we see the artist breaking the mould and creating a solo persona, NiftySax in which he focuses on the saxophone as his only medium.
NiftySax is well known in the NFT community with his music on blockchain generating more than 29 ETH in volume traded ($120k at the time of writing). His collection of music NFTs, Nifty Sax Spheres was sold out in 10 hours.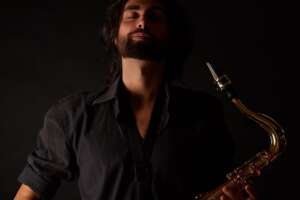 NiftySax is well-travelled, having been born and raised in Fano, Italy, spending one year living in Sydney, Australia before moving to Berlin, Germany with the occasional show in London. The artist is inspired by the likes of Stan Getz, Coleman Hawkins, Dexter Gordon and Lester Young as well as from modern masters like Joshua Redman and Bob Reynolds. His own sound calls to mind the likes of Stan Getz, John Coltrane and Portico Quartet.
Take a listen to "Shaula" now via the YouTube link below:
What's your reaction?
0
cool
0
bad
0
lol
0
sad