Bob Marley's estate has gifted one of his guitars to the DJ – let's see what he's done with it!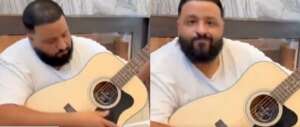 The "We The Best" producer was generously gifted a Brand New acoustic guitar from the Guild company who worked in conjunction with the late Bob Marley's family to recreate his Madeira A-20 guitar that he famously used when writing in the comfort of his home.
As expected, after being honoured with such a gift, the DJ thought it best to put the instrument to good use and release a short clip of him doing so. Unfortunately, it seems as if DJ Khaled has a lot left to learn in regards to the world of guitar-playing as many viewers were horrified to see him essentially playing his new gift "like a kettle drum" and with no tune or rhythm whatsoever.
Now, it is certainly no crime to be a novice at a music instrument. Who are we to judge?! However, when you have just been gifted a guitar from the family of a musical legend, it may be a good idea to take the time to learn a chord or two online so as to a negative response.
With comments on social media such as "Bob Marley rolling in his grave rn", people asking "How is DJ Khaled real bro? This is so disrespectful" and it being the general consensus that Khaled is "being roasted from here to Jamaica by Bob Marley fans", you'd think the label would perhaps pay for a lesson or two for the star.
The Marley family left a personal note stating: ""DJ Khaled, we are excited to leave this new guitar with you. As someone who has an appreciation for Bob Marley's life and music, we want you to be the first to play the Guild guitar. Based on Bob's at home songwriting, this inspired songs that helped unite the world and we hope it gives you inspiration as well."
The DJ is seemingly unphased by the influx of memes regarding the mishap, with him continuing to post to his socials in a "business-as-usual" sense. There do seem to be enough posts there to remind people of just how successfully DJ Khaled is – that may not be by accident!
Stay tuned for more news as it comes in on all the hot topics!
Have a great weekend guys.
Written & Researched by Max Dervan
What's your reaction?
1
cool
1
bad
0
lol
0
sad