Tinie and Maia Wright smash it out of the park with their new track 'Love Me Like This' from Disturbing London/Parlophone.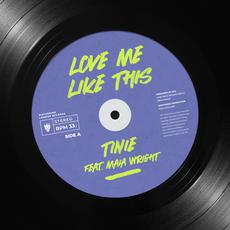 'Love Me Like This' is a 2-step Garage banger featuring Swedish singer-songwriter Maia Wright. The pop-influenced track samples 2001 UK garage track 'Do You Really Like It?' by DJ Pied Piper and the Masters of Ceremonies.
The record takes us back to Tinie's roots and reasserts the notion that he was one of the first rappers within the UK to sonically break down barriers and demonstrate commercialisation within our culture.
'Love Me Like This' is a celebration of London being the epicentre of black culture and pays homage to the Y2K era which laid the foundation for a hit-making decade for Hip-Hop music worldwide.
The narrative around the visual, shot by Elliot Simpson, is centred around a young man who is a bit of an old school garage head who's just landed himself a part time job in a record store.
The visual will be cinematic, fun and vibrant, capturing authentic London summer vibes and the energy of the track. The visual aims to reinforce the record's garage heritage (with the location being a record store in the heart of West London) but will also have a visual language that a younger audience can connect with.
Maia Wright has over 300 million streams to her name as a songwriter and feature artist, has close to 700K monthly listeners on Spotify and has featured on Billboard and the US Radio Dance chart with 3 songs and as a songwriter.
I personally haven't listened to Tinie's tunes since before he dropped the "Tempah" so this was incredibly refreshing to listen to. Let us know your thoughts on this new track on our socials!
Written & Researched by Max Dervan
What's your reaction?
0
cool
0
bad
0
lol
0
sad