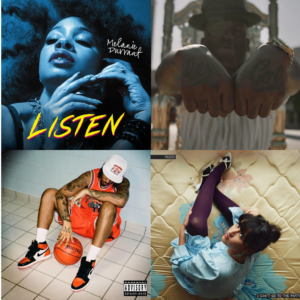 [Pictured: Top Left – Melanie Durrant, Listen. Top Right – Fashawn and Sir Veterano, All Hail The King.  Bottom Left – AJ Tracey, Little More Love. Bottom Right – Rozzie, I Can't Go To The Party.]
The Weekly Roundup 20.08.21
We've got four more killer tracks to share with you this week so without further ado, here's this week's roundup!
First up we've been loving Melanie Durrant's 'Listen', the first single from her May 2021 album 'Where I'm At', released May 2021. Durrant is an award-winning recording artist from Toronto who's been hailed for her impact on the Canadian hip hop and R&B scene. "Full of melodic surprises, heavenly harmonies and bold direction, Melanie Durrant embodies the voice, attitude and sound that has helped shape Canada's diverse soundscape."(source – Medium.com, 2020)
Produced by Statik Selektah (whose credentials also include the likes of Nas and Wiz Khalifa), 'Listen' is embodied with emotion and perfectly encompasses a 90's boom-bap and smooth R&B sound.
Hot off the press, our second track 'All Hail The King' is a collaboration between hip hop recording artist from Fresno, California, Fashawn and esteemed hip hop producer Sir Veterano. Beaming with a triumphant brass section, the track maintains a classic West Coast aesthetic which holds a strong backing for Fashawn's fervid blend of singing and rapping.
AJ Tracey dropped the summer infused tune 'Little More Love' back in April, preceding the release of his latest album 'Flu Game'. Laidback and smooth in it's instrumentation, Tracey's vocal performance on top shares lyrics that both look back on his past whilst also his present and the high life he is currently living – "Got a point to prove, that's for real, changed how we do it, went platinum with no deal".
Next up we've got a relatable song for many with Rozzi's May 2021 release 'I Can't Go To The Party'. This track is about bumping into an old flame at a party and the emotions it can reopen, despite the amount of healing you thought you may have done. Rozzi shares, "I wrote the song after running into my ex-boyfriend at a party and feeling like the months I'd spent getting over him had suddenly vanished. Being so affected by the sight of someone that you're willing to let all your friends have fun without you, is a lonely feeling." (source – dustyorgan.com, 2021)
Although a unique voice and talent who's totally owning her style, fans of Charlotte Day Wilson and Yebba will definitely dig the neo-soul party blues that Rozzi presents us with.
What's your reaction?
0
cool
0
bad
0
lol
0
sad