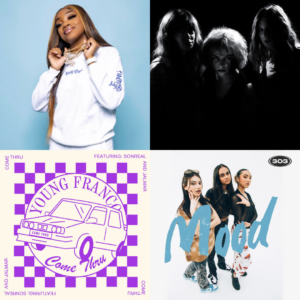 Welcome back to The Weekly Roundup! We are back with some of the freshest finds to fuel your week.
First up we have a track called 'Act Bad' by Young Devyn (pictured top left). Since the age of eight, Devyn Tyson a.k.a Young Devyn, has been composing and performing her own music and has only been scaling from height to height since. Now at 19, Devyn is a viral sensation, receiving praises from the likes of Taraji P. Henson, Nicki Minaj, Waka Flocka, and more. Throughout her music she infuses both rap and Soca with Caribbean beats and different twangs. Her songs are all about what she experiences but also what she thinks other people have experienced and want to hear. RESPECT Magazine (Feb 2021) described Devyn as 'An elite MC and hybrid vocalist with a compelling delivery, profound lyrics, effortless flows and infectious melodies while also injecting her own signature Caribbean flavour'. '
'Act Bad' is available across all major streaming platforms but you can also catch it on our Weekly Roundup segment, Monday's 4-6pm.
Pictured top right are Ghost Funk Orchestra. Based in New York City, what started as a one-man recording project evolved into a 10-piece powerhouse live band. Their sound is a sonic kaleidoscope that defies genre specification but draws heavy influence from the worlds of soul, psych rock, salsa, and beyond. We've been particularly loving their track 'Asphalt Homeland', a laid-back psych-soul instrumental out on German label Golden Rules.
"A cosmopolitan, swinging affair with CTI-informed fusion chops, lounge-y breeziness plus tinges of Rotary Connection's flowery psychedelic soul and David Axelrod's high-minded orchestral funk!" – The Wire Magazine
Up next we have Joseph Da Rin de Barbera, who performs as Young Franco. Young Franco is an Australian DJ and record producer from Brisbane, Queensland, who's constantly pushing the edges of electronica, pop and hip-hop forwards. Following the release of his breakout single 'Fallin' Apart' featuring Denzel Curry & Pell, Young Franco returns with a highly addictive single 'Come Thru' (album artwork pictured bottom left). As a track, 'Come Thru' deals in the provision of positive energy and trusting your inner confidence. Watch the music video for 'Come Thru' HERE. 
Last but not least we have a track called 'Mood' by London based three piece 303. Pictured bottom right, the band consists of Chloe Wealleans-Watts, Io Munro and Maddie Hinkley. The group was founded on 30 March 2017, which inspired the name 303. Their sound revives the soulfulness of 90's R&B, while effortlessly giving it a modern twist with their rich vocals and stunning harmonies. 'Mood' truly is an instant mood booster, presenting listeners with optimistic lyrics and beats to dance summer afternoons away to, make sure to give it a spin!
Listen to all the listed tracks and more on our segment 'The Weekly Roundup', Mondays 4-6pm on Afro*Disiac Live Radio.
What's your reaction?
0
cool
0
bad
0
lol
0
sad