Afro*disiac + Soho Present
Socadisiac
Come and enjoy the good vibes throughout the evening as we take you through the sounds of carnival with a selection of soca music hailing from all the islands!
We will be Showcasing the richness and vibrant culture of the Caribbean. Hosted by Bournemouth's No.1 Independent Internet Music Station Afro*disiac Live Radio in partnership with Soho Bar Christchurch
The evening will be hosted by Martin Jay-The Prince of Soca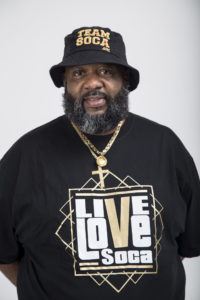 Martin Jay began his radio career on September 30th 1990 at 8pm on Choice FM radio. He used this platform to become a household name within the Caribbean community as The UK Prince of Soca.
In July 1997 Martin embarked upon a new stage in his commercial career when he became co-presenter of the flagship breakfast show, one of the most coveted slots for any DJ due to extensive audience figures that could be reached daily. He spent 14 amazing years waking up London with music, interviews, laughter and his own special and unique style.
Martin aka Big Pappy considers himself a Caribbean Music specialist and has interviewed a vast number of Caribbean artists including Sparrow, Machel Montano, David Rudder and the late Arrow. Creating a platform to showcase the immense talent, beauty and fun that he knows lie in the Caribbean. He has been involved in the creation of some of London's biggest soca parties including Cocoyea, Soca City and Colours.
Martin has also branched out into other dynamic forms of Media dabbling in print media by hosting a column in The Voice Newspaper and more recently by creating and running an online TV channel www.socavision.com together with his son Duane Jay and step-daughter Rochelle B. Bringing a visual aspect to what he enjoys most, celebrating the beauties of the Caribbean.
Martin Jay presents The Caribbean Affair, which can still be heard every Sunday evening on www.bakahnalradio.com from 6pm – 8pm
Martin Jay
Saturday 12th May  | 9.30-Late  | Free Entry  | +21
at Soho Christchurch
Supported by : Sabz | SleekRay| Leeroy  Cass on Percussion.
Soundtrack: #Soca #Calypso #Dancehall #R&b #Reggae #Bouyon #AfroSoca #Bashment
What's your reaction?
0
cool
0
bad
0
lol
0
sad