Janelle Monáe – Lipstick Lover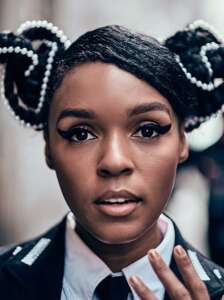 (Atlantic)
JANELLE MONÁE UNVEILS THE AGE OF PLEASURE
AWARD-WINNING SUPERSTAR ANNOUNCES HUGELY ANTICIPATED NEW ALBUM
NEW SINGLE "LIPSTICK LOVER" PREMIERES TODAY
RELEASED ALONGSIDE OFFICIAL EMOTION PICTURE
THE AGE OF PLEASURE ARRIVES VIA WONDALAND ARTS SOCIETY/ATLANTIC RECORDS
"As we enter into The Age Of Pleasure, "Lipstick Lover" is our freeassmothafucka anthem inspired by f.a.m. for f.a.m. This is our oasis made with love, rooted in self acceptance, throbbing in self discovery, and signed with cherry red kisses from me to you. "
– Janelle Monáe
Janelle Monáe, music's foremost freeassmuthafucka, has shared her scintillating new single, "Lipstick Lover," available now via Wondaland Arts Society/Atlantic Records. An official emotion picture, directed by Janelle Monáe and Alan Ferguson, premieres today on YouTube – Watch HERE.
Arriving on the heels of her showstopping Met Gala appearance, "Lipstick Lover" heralds the arrival of Monáe's hugely anticipated new album, THE AGE OF PLEASURE, due out June 9th. Pre-orders/pre-saves – including limited edition vinyl – are available now HERE.
THE AGE OF PLEASURE also includes the acclaimed new single, "Float (Feat. Seun Kuti + Egypt 80)." Hailed by Pitchfork as "swaggering, brass-heavy…the sound of a top-tier talent doing a little victory dance," the track is joined by an official dance video streaming on YouTube HERE.
To celebrate the launch of this new era, Monáe graced the March cover of EBONY Magazine, which stated, "the singer-songwriter returns to music as their fullest self…we're perhaps witnessing the queerest, and by association, the Blackest, of Monáe's eras yet…"
"Float" – which Monáe initially teased on her hugely popular Instagram – was first heard late last year as the official anthem of ABC/ESPN's NBA Saturday Primetime campaign, with Janelle contributing voiceover narration to promo spots highlighting the biggest matchups and stars in the league. The track was used extensively throughout all NBA coverage through mid-March, spanning promos, Primetime matchups, in-game placement, social media, and more. In addition, "Float" was featured in an animated piece marking Los Angeles Lakers superstar LeBron James surpassing Kareem Abdul-Jabbar for the #1 spot on the NBA's all-time regular-season scoring list, shared across ESPN's socials and James' Instagram to reach more than 275M combined followers.
ABOUT JANELLE MONÁE
Janelle Monáe is without question one of the most celebrated artists of the modern era, an 8x GRAMMY® Award-nominated singer, songwriter, producer, performer, and fashion icon known worldwide for her inimitable style and visionary sound. With multiple celebrated albums, THE ARCHANDROID (2010), THE ELECTRIC LADY (2013), and DIRTY COMPUTER (2018), numerous critically-acclaimed theatrical and television performances, and her unwavering activism for social justice and the LGBTQIA+ community, Monáe continues to be one of the most compelling and important artists of this generation.
What's your reaction?
0
cool
0
bad
0
lol
0
sad