Is your child destined for a future career in Radio?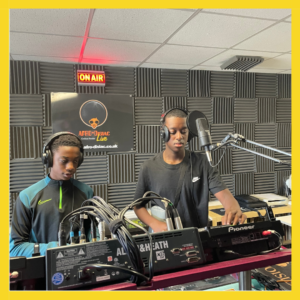 This Saturday will mark the sixth week of our brand new Community and Employability Course aimed at helping 12-16 year-olds grow their Radio skills in a supportive and professional environment.
Hosted right here at the AFRO*DISIAC Live Radio station in Charminster, we teach to small groups of up to seven students at a time. This is because we feel our course is best delivered to a smaller group to maximize individual attention and devote enough practical work time to each learner.
Our trainers focus on introducing these young DJs to the radio sector/radio production, support them in finding future employment and assist them in developing their social skills while doing an activity they enjoy!
The areas covered include:
Understanding the history of radio and its importance today
The roles and employment opportunities available in radio
Development of digital media production skills
Using ICT
Interviewing and being interviewed
Radio etiquette
Scriptwriting
Producing a show
"We've seen incredible results off the back of our first course, the engagement and talent of the young individuals was remarkable and the feedback has been really positive. With learners already wanting to come back to develop their skills, we are really excited to be able to open up more avenues for them in the future and support them throughout their journey in radio" – Julia Hanlon, Course Instructor
If this course is something that your child may be interested in then please get in touch and find more info at this section of our site: https://afro-disiac.co.uk/workshops/
Written and Researched by Max Dervan
What's your reaction?
0
cool
0
bad
0
lol
0
sad