The countdown is on to the BEAF 2023 Arts Festival! Visitors can look forward to ten days of exhibitions, performances, workshops and family friendly events across Boscombe, near Bournemouth.
BCUC and Harare playing live at BEAF 2023's launch party, Bournemouth's O2 Academy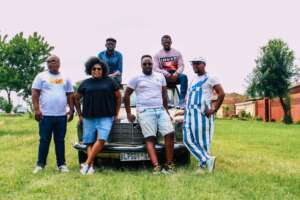 The BEAF 2023 Arts Festival kicks off with a Launch Party on Friday 16 June. BCUC is bringing incredible music all the way from Soweto to Boscombe's O2 Academy. Bantu Continua Uhuru Consciousness (known as BCUC) combines a heady mix of indigenous funk, hip hop and punk rock energy. BCUC portrays the rich traditions, rituals and beliefs coming out of Africa.
"We bring fun and emo-indigenous Afro psychedelic fire from the hood," says BCUC vocalist Kgomotso Mokone.
"Without a doubt the best live act I saw," BBC Radio 6 Gilles Peterson
BCUC will be supported by Harare
A virtuoso marimbist, Kuda Matimba was a member of Zimbabwe's legendary Bhundu Boys, a ground-breaking force in the African music industry, as they paved the way for more artists to reach commercial success in Europe and the US.
Harare features a ground-breaking line-up, mixing the buzzing acoustics of the Southern African rich-toned marimba, mbira, ringing jingling guitars, swooping basslines, irresistible dance rhythms and uplifting vocals.
Harare celebrates both the past and the future of African dance music and brings a spectacular mix of Southern African musical styles, particularly the musical styles of Zimbabwe. Words to the songs are performed in the Shona language of Zimbabwe.
Doors open at 8pm, Harare starts at 8.30pm.
No under 8s and under 14s to be accompanied by an adult over 18 at all times.
For tickets and more information: https://gotbeaf.co.uk/event/beaf-2023-launch-party/
Other festival highlights for BEAF 2023 include:
Boscombe World is an adventurous visual and sensory installation in BEAF's pop-up arts space and former department store, Boscombe Arts Depot. A family friendly exhibition, inviting curiosity and play. Suitable for all ages.
The BEAF Arts Pavilion is an interactive space on Boscombe's precinct (next to Costa Coffee) for free talks, performances and workshops. Expect everything from screen-printing to mindful drawing and kids' nature crafts. Daily between 11-6pm from 17-25 June.
Performance poet, Lady Unchained, performs her brilliant work 'I am Lady Unchained', illuminating her life and the world we live in. The performance will be followed by a conversation hosted by The Outsiders Project. Lady Unchained is a poet, performer, mentor and award-winning broadcaster. Her mission is to prove that there is life after prison.
Come and hear how Issa has gone from being a school dropout and homeless to being a brilliant voice in the poetry scene. Issa joins up street-land and art-land. Be inspired by his work, his beautiful voice and his commitment to the arts and other voices.
View the festival's programme in full BEAF website @GotBeaf
What's your reaction?
0
cool
0
bad
0
lol
0
sad