Coi Leray is an American rapper who started off her career posting music to Soundcloud. She made good use in the music platform by releasing her breakout single "Huddy" in 2018, from her debut mixtape entitled "Everythingcoz".
She has now released a brand new track "Anxiety" which will be featured on the season finale of HBO MAX's "Chillin Island". The track is taken from her new album which will be released this Spring, so look out for that one!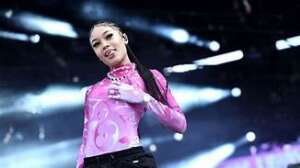 "Anxiety" comes after the success of her 2021 released tracks "TWINNEM" which was #5 on TikTik's U.S Year-End Chart, RIAA certified Platinum track "No More Parties", and "BIG PURR (Prrdd), a track which received an RIAA certified Gold.
Coi Leray has definitely maintained a successful start to her career, with over 1 billion streams globally and was a nominee for iHeart TikTok Bop Of The Year! She will be attending at Governors Ball in June, so make sure look out for her performance…
Until then, check out "Anxiety" via the YouTube link below:
What's your reaction?
0
cool
0
bad
0
lol
0
sad