1970's disco queen Amii Stewart has partnered with ProtoStar Records to launch her brand-new single and music video for an original song called "Perfectly Beautiful".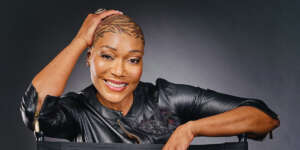 Amii Stewart recorded several albums and singles that received early acclaim and Platinum status. Most significantly, the #1 Billboard 100 hit "Knock On Wood" made her an icon in the disco clubs of those days. She was nominated for a Grammy Award in 1980 for Best R&B Vocal Performance, Female. Subsequently, she moved to Italy and over the last several decades, she has attained six #1 international hits, released over fifteen studio albums and close to fifty singles. 40+ years later, she's still performing to the delight of crowds all over Europe, and particularly to her enthusiastic fanbase in Italy.
"When I decided, after much thought, to tattoo my head, I couldn't imagine anything other than flowers," said Amii. "Not flowers in the literal sense, but flowers for the beginning of my new path. Lively flowers that explode and bloom in an exotic jungle intertwined with my image of a lady. Amii Stewart from the 1970's and 1980's is a sweet memory. Today, I'm Amii in a contemporary version. A free spirit.".
Check out the official video to "Perfectly Beautiful" below:
What's your reaction?
0
cool
0
bad
0
lol
0
sad