You thought it couldn't get any better? Wrong!
Led by Paris-based keyboardist Guillaume Metenier, the Soul Sugar collective release Excursions In Dub, a dub version of their acclaimed latest album Excursions in Soul, Reggae, Funk & Dub, with 10 tracks of soulful roots & dub.
Released exclusively in Japan for Record Store Day through the HMV record shop under license from Gee Recordings, new album Excursions in Dub is now available on all digital platforms and you can still order the vinyl from Japan and from very few European outlets including the band's Bandcamp.
Soul Sugar's cast list of contributing musicians to the original and dub album includes Sly & Robbie, Blundetto, Lone Ark, Slikk Tim, Thomas Naim, Jahno, Grant Phabao and honey-voiced soul singer Leo Carmichael. Metenier also stars as a musician, providing lively and ear-catching organ solos under his now familiar Booker Gee alias.
The dub album features heavy dub versions in the roots tradition of the eight tracks of the original full-length along with two unreleased tracks, a cover of Jackie Mittoo's "Peace Treaty" and "Pablo Dub" in combination with Blundetto & Booker Gee. The dub mixes were expertly handcrafted in their own respective studios by engineers extraordinaire Roberto Sanchez aka Lone Ark, Blundetto & Blackjoy, Jahno, and Guillaume Metenier aka Booker Gee.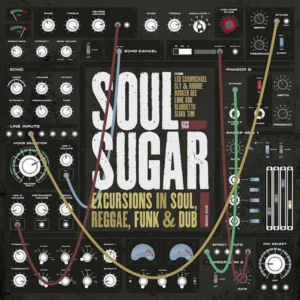 Expect analogue roots and modern sounds designed for heavy sound systems or your home hi-fi …highest level of cool for impeccable taste, grab it and chill!
Hit the link to listen to the full digital album: https://soulsugar.bandcamp.com/album/excursions-in-dub
What's your reaction?
1
cool
0
bad
0
lol
0
sad