RICHIE SPICE ANNOUNCES HIS NEW ALBUM TOGETHER WE STAND
OUT DIGITALLY – 12th JUNE 2020 (VP RECORDS)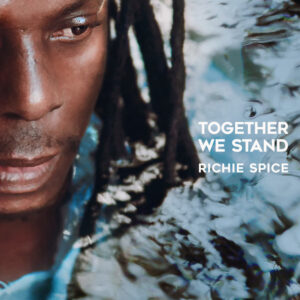 Throughout his career, Jamaican singer and Rastafari warrior, Richie Spice has made music that reflects the times we live in-and the times to come. His forthcoming album, Together We Stand (due 12th June 2020 on VP Records) is no different. At a time when millions across the world are experiencing isolation, economic devastation and the loss of loved ones, resulting from the Covid-19 plague, music to uplift, to inspire, to endure is more precious than ever and across fifteen compelling new tracks, Richie Spice on Together We Stand does just this.
Recorded at various studios in Kingston, Jamaica, including the Marley family's Tuff Gong, and featuring guest spots from Chronixx and Dre Island, as well as production by veterans Clive Hunt, Stephen Stanley and Element Music Group (formerly 5th Element), Together We Stand sees Richie continue his mission to define roots reggae for a contemporary audience.
Together We Stand begins with Richie's spoken word intro, which combines biblical passages with the cadence of Jamaican National Hero, pan-Africanist Marcus Mosiah Garvey, whose principles are at the foundation of the Rastafari movement; it's an appropriate opening for the album's thought-provoking sentiments. Richie's precise vision on Eyes To See The World considers the poverty, hunger, and lack of education afflicting so many children. Put This in Schools set to a swirling flute and Rastafari Nyabinghi drumming, decries "bigotry and prejudice, malicious and inhuman self-interest" and warns of ensuing chaos if these behaviors aren't replaced by "understanding and good will."
Richie offers a soothing balm for challenging times with De-stress and encourages focus and determination on the dance remix to his 2017 hit There's A Way, which Richie produced alongside John "Jon FX" Crawford and Andre Chevolleau. Richie also delivers superb covers of Dave Robinson's 1982 nugget Di Dub Dance and Max Romeo's 1975 classic Valley of Jehosophat (Clive Hunt produced the originals; Clive and Richie produced the remakes); the latter references the location in the Old Testament's Book of Joel where heathens will be judged for their misdeeds. "The bible brings great inspiration to my songs" notes Richie.
A younger generation of Rastafarian reggae artists who have molded their own progressive sentiments within their music cite Richie as a primary influence. Among them, Chronixx and Dre Island, who are, respectively, featured on Together We Stand's tracks Unity We Need and Murderer. The former is a roots rock reggae reminder that "a nation divided by itself can't excel", the latter, a powerful commentary on eradicating a perpetual system of violence. "Although we never recorded in the studio together, it's was a good vibe because the artists said the songs gave them goose pimples and they wanted to be a part of them," Richie offered. "I commend their efforts, singing the same type of music the older generation sang, and the type of music that I sing, likewise. It strengthens the work that I and I have done and keeps the music on a positive level."
Decades before marijuana's 2015 decriminalization in Jamaica, Richie's music advocated for the plant's healing properties. For his diligence in promoting what Rastas consider a holy herb, Richie was bestowed The Peter Tosh Award at the Caribbean's premiere cannabis business conference, CanEx Jamaica, in September 2019. Richie continues that crusade on Together We Stand with three herb songs: California, I Use The Herbs, and Dabbin. "California was written about the first time I visited a ganja farm there, I was so inspired by the size of the plants and the quality," Richie explained. "Herbs are the healing of the nation". The purity of Richie's vocals suits Rasta anthems and social commentaries, as well as love songs. Beautiful Life released in January 2020, is a gorgeous lovers rock duet with Canadian singer/songwriter Kathryn Aria. Expressing love of a different kind, Mother Nature is an ode to the planet that condemns our collective maltreatment of her.
Reflecting on his over two decade-long career and his latest collection of trailblazing roots reggae music, the Rastafarian singer/songwriter acknowledges, "My responsibility is to use the talent God gave me as an instrument to uplift."
Take the soulful and gospel-infused title track as example. Together We Stand took on heightened relevance as the theme tune of the recent Covid-19 relief Telethon Jamaica #TogetherWeStand Broadcast on Jamaica's national TV network TVJ, featuring performances by some of reggae's biggest acts including Gyptian and Koffee. Spice helped to raise over $300,000 for personal protective equipment for Jamaica's healthcare and frontline workers. When asked about the song's involvement for a campaign that has helped many at this difficult time, Spice responded "The inspiration for that song comes from the vibration of life, how people are living; everybody is fighting. We give thanks that the song was accepted and together we stand against this unseen beast".
Having delivered conscious hit songs for over two decades, Spice presents a powerful, unified message we can all take from at this current time. Together We Stand musically presents to you, the love and togetherness of humanity, the protection of nature, the love and respect for women, and advocating for the youths through social welfare and the true teachings of Jah. On Together We Stand, Spice resumes his position as the roots reggae messenger of this generation.
Stream Together We Stand by Richie Spice / Download Music, Photos and Richie Spice's Bio (EPK)
Tracklisting:                                                                        Follow Richie Spice:
1. Blessings (The Album Intro)                                               Facebook
2. Together We Stand                                                               Twitter
3. Di Dub Dance                                                                         Instagram
4. Beautiful Life (feat. Kathryn Aria)                                    Soundcloud
5. Eyes To See The World                                                        Spotify
6. Unity We Need (feat. Chronixx)
7. Valley of Jehoshaphat (Red Hot)
8. California
9. I Use The Herbs
10. Dabbin'
11. Mother Nature
12. Murderer (feat. Dre Island)
13. There's A Way (Remix)
14. De Stress
15. Put This In The Schools
For press enquiries, please contact Karen.proctor@vprecords.com
VP Records Label Manager UK/ Europe
Office: +44 20 8758 0564
Mobile: +44 7879 454 735
Office 302, Edinburgh House, 170 Kennington Lane, London, SE11 5DP
What's your reaction?
0
cool
0
bad
0
lol
0
sad