Life is too short, New rules New ways to have a good time!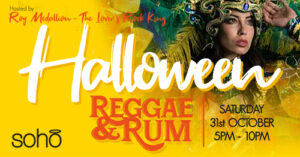 Halloween: Reggae & Rum Experience 👌🏿
Saturday 31st October 2020
5pm – 10pm @ Soho Terrace Bar Upstairs – Last Entry 6pm
Reggae, Rhythm & Jerk with Non-stop good vibes (whilst keeping to social distancing rules of course!)
Hosted by DJ Roy Medallion – The Lover's Rock King
 Max 6 guests per table
 Soho Rum Punch on Arrival
 All Inclusive Caribbean Food
 DJ Roy Medallion
 Outdoor Smoking Gallery
 Limited Tickets: £25.00 pp + b/fee
—————————————————————————————————————————————-
🛑   PLEASE NOTE SOCIAL DISTANCING RULES APPLY!! 
Please respect one another's space and keep your distance where indicated.
We are offering group tickets of 2, 4 & 6 in order for us to use our entire allocation.
In making this booking you are confirming that you and your group are either all from the same household or are part of the same 'social bubble' in accordance with UK government Covid-19 safety measures.
PLEASE BRING VALID ID. The venue has a strict no ID no entry policy.
Safety is important & we'll be following government guidelines to keep everyone safe.
Please do not attend the venue if you or anyone you have been in contact with are showing symptoms of COVID-19.
Please use our sanitiser stations that are provided on arrival and around the venue for your safety and convenience.
Drink orders will be taken by your servers at the venue. They will be provided with PPE for your safety and consideration. There is no service at the bars, your table will have a server for the duration of your stay, so your drinks and food will be brought directly to your table.
We encourage contactless payments to be made when possible.
Lets have great Halloween Reggae & Rum Experience!!
What's your reaction?
0
cool
0
bad
0
lol
0
sad