[Soul]
Elegant soulful duo ELIS NOA has released their latest single, 'Weights' on the 1st of April via Las Vegas Records, accompanied by a stunning live video. The single follows the release of 'I Don't Like It Here' and 'Make Me Think Of You', all of which appear on the duo's upcoming sophomore LP. The pair have performed across Europe and have previously worked with Marco Kleebauer (Leyya and Bilderbuch) as well as Max Walch (Left Boy and Bilderbuch). In total, ELIS NOA have earned over 1.1 million plays across platforms with support from well-known international publications including Tonspion, Metal Magazine, NBHAP, Glamglare, Music Export and Everything Is Noise to name a few as well as FM4 and Oe1.
The duo is comprised of Aaron and Elisa who are both currently based in Vienna, Austria. The pair met during their time at the Jazz Department of Vienna's Music University. Together, ELIS NOA have released two EPs, High EP and Love Letters as well as their successful debut LP, What Do You Desire? ELIS NOA's sound ranges from pop to contemporary RnB, all the way to future soul. The pair is inspired by the works of Emilie Nicolas, Jacob Banks, Jordan Rakei, Frank Ocean, Jazmine Sullivan and Oliver Malcolm. However, their own sound draws parallels to the likes of Billie Eilish, Lana Del Rey, Jordan Rakei and Jacob Banks.
ELIS NOA's sound is soulful, taking honest and raw lyrics and layering them with gentle brushes of elegant tones that add unexpected depth to the experience. 'Weights' finds the middle ground between sorrowful and hopeful with a twinge of the inevitable wrapped into the sound.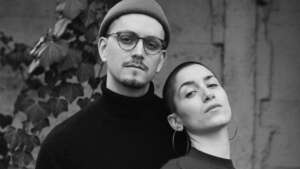 The duo talks about the meaning behind the track: "Our latest single, 'Weights' is a song about indecisiveness and struggle. You want the other to be close to you but you constantly feel drained because of their avoidant behaviour and how they make you feel by pushing you away. 'Weights' shows feelings of warmth but also the inner fight that even though you'd be willing to give your all, it'll never be reciprocated."
What's your reaction?
0
cool
0
bad
0
lol
0
sad