Snoh Aalegra's got some stories to tell with a little help from Pharrell!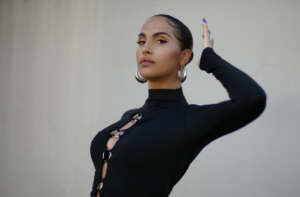 "Temporary Highs in the Violet Skies" is the latest album from the honest storyteller that is Snoh Aalegra. Check out what Robyn Mowatt (okayplayer.com) had to say about the exciting new release:
"The fleeting feelings of temporary love and the heartache that often comes with it is all over this album. Beyond that, the compilation highlights Snoh's lush voice and allows her space to expand on what it's like experiencing a deep love that causes you to evaluate your livelihood.
The singer/songwriter's track record precedes her, she often lies in a crux between modern R&B and neo-soul, but this album pushes her deeper into the R&B canon. Each song has a distinct feel to it, and for good reason, a few tracks are even a bit experimental like "Neon Peach" featuring Tyler, the Creator. Additional features and contributors on the album include No I.D., Pharrell Williams, Ant Clemons, and James Fauntelroy. This is her newest release since her 2019 album ugh, those feels again.
Upon a first-listen, we've pinpointed that a few of our favorite tracks on the album are "Indecisive," "In Your Eyes," "Just Like That," "We Don't Have To Talk About It," "Tangerine Dream," "On My Mind" and "Everything."
"Indecisive" is the perfect introduction to the album. On it, Snoh reckons with a partnership that had her yearning for a distinct definition of what the situation was. The production on this is absolutely supreme.
Over on "In Your Eyes" produced by and featuring vocals by Pharrell, Snoh shines. It's the lyrics about being seen through a lover's eyes but it's also about Aalegra's ability to shapeshift and make the stellar beat work for her."
We really dug this tune today but we want to know what you guys think on our socials. So get involved.
Have a great Wednesday!
Written & Researched by Max Dervan
What's your reaction?
0
cool
0
bad
0
lol
0
sad