We're excited to announce the release of Chinese-British Avant-pop songstress Fifi Rong's self-produced solo album, 'There Is A Funeral In My Heart, For Every Man I Loved', out now.
Chinese-British Avant-pop artist Fifi Rong has released her self-produced solo album, There Is A Funeral In My Heart, For Every Man I Loved on the 10th of December via her own imprint. The LP is accompanied by a video for 'Out Of Clock', directed and edited by Zee Marla Osh. The video for 'Out Of Clock' is Fifi's first video listed as an NFT and is available here.
The songstress has racked up over 103 million plays around the world. She has collaborated with the likes of Skepta( on his hugely successful UK No. 2, Mercury Prize-winning album Konnichiwa), and has previously received support from numerous tastemaker publications, including The Guardian, The Times, NME, Complex and CLASH Mag to name a few.
The project was independently crowd-funded and made possible by the support of her enchanted listeners. The album is technically a double LP, with the Mandarin version exclusively available to her crowdfunding backers. Fifi Rong appreciates each contribution, giving thanks to her fans with rare NFT gifts as well as allowing people to own/license a stake of her music, the value of which will grow as the songstress does.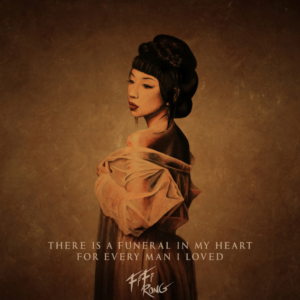 Speaking of the creation of the album, Fifi Rong explains: "Have you ever given up everything so your dream could live? …I did. To let my music live, I had to let everything else die in my heart. But the ghosts of doomed romances had nowhere to go except to find their way into my upcoming solo Double Album: my greatest, most important and intimate body of work to date. 5 years of writing, recording and producing this double album on my own went into making sure these delicately crafted, heart-aching ballads would heal in the midst of tragedy and prepare you to smile at the end of your tears. I wanted it to be timeless. For I truly believe in creating soul resonance & meaningful connections between my art and aesthetes who can truly appreciate its multifaceted values."
About Fifi Rong
The songstress was born in Beijing and carries a British nationality, as she is currently based in London. The singer-songwriter has had an extraordinary journey through her career. Fifi Rong has collaborated with the likes of Skepta (on his hugely successful UK No. 2, Mercury Prize-winning album Konnichiwa) as well as Tricky and Yello on their chart-topping albums Point and Toy, with further collaborations with Phaeleh and Emika.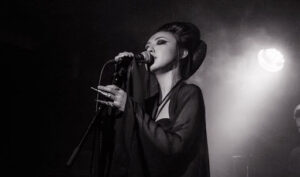 While creating music, Fifi Rong constantly seeks inspiration in new forms as she moves forward, including atmospheric, moody and dark UK underground sounds. In turn, her own sound can be associated with the likes of Bjork, Cocteau Twins' Elizabeth Fraser, FKA Twigs, ANOHNI and Massive Attack as she displays contemporary ballads with atmospheric production with the emotional and melancholic tones of Shlohmo, Sevdaliza and the sultry sensuality of Lana Del Rey.
The singer is further embracing music and multimedia by becoming highly involved in the NFT community, deeply involved and pioneering, onboarding newcomers and marking herself as one of the forerunners in the artistic evolution. Fifi Rong is encouraging other artists to embrace the medium alongside her by hosting regular online discussions on Twitter every day, soon to be twice a day.
Moving from one verse to another, like a skilled ballet dancer finding herself at home on a new stage, Fifi Rong envelopes the listener in a poetic grace. The singer's warm, timeless vocals find purchase within the unfolding atmospheric collages of the album, bringing an untouchable philosophic femininity to the world with her music. Each single has been carefully crafted, as both an ode to the past and an orison to the endless possibilities of the future.
Check out her album via the link here: https://m.soundcloud.com/fifirong/sets/theres-a-funeral-in-my-heart/s-rJIXLZe0atp?si=890e1618ca4b488cbd8caa221b8cc38a&utm_source=clipboard&utm_medium=text&utm_campaign=social_sharing 
WATCH the visuals for her stunning track from the album entitled "Out Of Clock" below:
We hope you take the time to check out this album and it's visuals. Send us your feedback on our socials and let us know your thoughts!
What's your reaction?
0
cool
0
bad
0
lol
0
sad