[House]
Atmospheric house producer Greg Kozo has released his two-track EP, The Story Of Rita Faltoyano on the 13th of April via Enchanté Records. The producer has earned his stripes in the industry, with support from the likes of i-D France, The Fader, Ministry Of Sound, CLASH Magazine, TRAX Mag, TSUGI and Mixmag France to name a few. The producer was one half of the Make The Girl Dance duo which had their debut hit single 'Baby Baby Baby' reach Number 26 on the French Top Singles charts and was featured in a Victoria's Secret commercial and the Guitar Hero 5 video with additional support from Buzzfeed. The producer has toured the globe, visiting the U.S., Asia, Europe to name a few and performing in the noteworthy South by Southwest (SXSW) festival. The florist who created the mask in the EP artwork is known for providing the flowers installation at Le Palais de l'Elysée, for the French president, Emmanuel Macron.
Born and based in Paris, France, Greg Kozo draws from his experience as a producer for more than a decade, with a brief stint as a Bass player in funk bands to add flavour. While creating his latest piece of work, Greg Kozo found inspiration in the modern works of Max Cooper, Telepopmusik, Etienne de Crecy, and KiNK. However, The Story Of Rita Faltoyano calls to mind the vibrant works of Kid Francescoli, French 79 and Thylacine.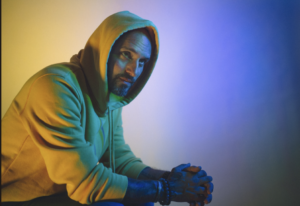 Playful and airy, the EP opens with soaring basslines and indistinguishable vocals, contrasted against a more assertive electronic colour. The light notes in the first track are made for drives through the city, as the street lights pass overhead and the dawn is far from thought. 'Purple K.O.' introduces nervous rhythms with electric and breathless basses and ventures into a darker territory: the street lights dim and a new adventure lays ahead.
Greg Kozo tells all about the inspiration for the EP: "I was in a taxi one night. The driver started to tell me this story of a woman called Rita Faltoyano who was driving an old Mustang in Las Vegas trying to escape the mafia. He told me that eventually, she killed the guys who were chasing after her. When I arrived home, I checked online to see if this story was real or not, and I discovered that Rita Faltoyano was an X-rated actress without any problem with the mafia and who had never killed anybody. It stayed in my mind as the story of Rita Faltoyano."
What's your reaction?
1
cool
0
bad
0
lol
0
sad