Any Funk/Soul fans out there? We've got a jam for you!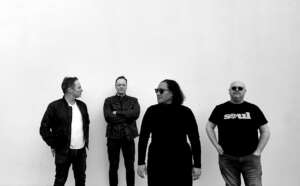 Uptempo retro soul is on the menu this fine Wednesday morning!
Jamie & The Numbers are a funk & soul outfit that hail from Wellington, New Zealand who have just recently been signed by Superfly Funk & Soul Records. The song we're taking a look at this week is their latest track "You Don't Love Me" which was released on October 1st. The track is a cover originally done in 1968 by northern soul group "The Epitome of Sound".
Jamie & The Numbers have cemented themselves in the scene as prolific writers of their own original material and spectacular performers of northern soul among other genres when going out as "The Numbers".
"The Numbers collectively have played/sessioned/recorded for other artists on such labels as Gut Records, D-Star, EG Records, Imaginary Records and have in excess of 40+ published songs with Universal, Complete Music, KWS Records NYC and Cherry Red, with this new direction of releasing Northern Soul songs alongside some of their more soulful originals on 7″ vinyl their goal is to go on and produce some top quality soul albums."
 "Jamie has a voice that could fell a tree. Her clarity, power and incredible feel are evident as she storms her way through these wonderful soul classics and originals with confidence and ease, we hope you go out of your way to have a listen and enjoy these timeless classics with us…..Please support this slice of Wellington made kiwi soul and together we shall endeavour to keep on keeping on". – Simon (The Numbers)
I personally couldn't put it better myself. So get your ears stuck around this and let us know what you think via our social media.
Have a great Wednesday guys!
Written & Researched by Max Dervan
What's your reaction?
0
cool
0
bad
0
lol
0
sad