We are delighted to offer our  Oval Bread Proofing Basket Proving Baskets in Natural Rattan for Home Bakers with Cloth Liner (25 x 15 x 8cm) Handmade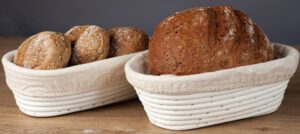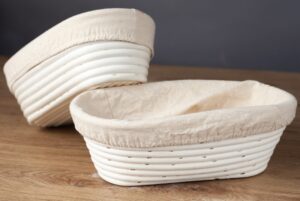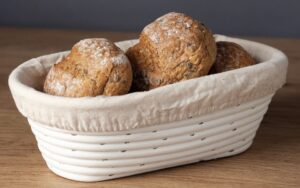 EASE OF USE: – you can use this proofing basket for the rising and resting of your homemade bread dough. Simply sprinkle the Bread Proofing Basket with enough flour and allow the dough to rest. For delicious and healthy bread.
FOR BEAUTIFULLY SHAPED BREAD: – no matter whether whole-wheat or white bread, a rustic farm loaf or heathy rye: with the bread proofing basket you always produce simply beautifully formed bread – just like you get at the bakery, that not only tastes great, but looks great too.
DIMENSIONS: – Outer Size 25 x 15 x 8 cm (Hold 500g Dough Proving basket) depth provides an excellent environment for bread dough to release nicely into the perfect size. Perfect size as Gift.
EXCELLENT CRAFTSMANSHIP: Beautiful handmade using natural rattan, absolutely free from dye and free from chemicals, best for making healthy artisan bread.
CLEANING: Easy to clean, hand wash with warm water, keep dry after cleaning.