At least 8 people are confirmed dead and hundreds more injured but who is to blame?
On November 5th 2021 at least eight festival-goers, including a 9-year-old boy, were tragically killed in a crowd crush during Travis Scott's set at his "Astroworld" Festival in the rapper's home city of Houston, Texas.
The rapper first hosted the one-day festival in 2018 and continued again in 2019 but was left with no choice but to abandon plans for a 2020 return due to the COVID-19 pandemic.
Fans were therefore delighted to receive confirmation that Astroworld, also the name of his third studio album, would be returning for a two-day event on the 5th and 6th of November this year and hype for the big name performers soon grew exponentially. The bill included the likes of SZA, Young Thug, Tame Impala and Earth Wind & Fire. Lil Baby, Bad Bunny, 22 Savage, Chief Keef and Master P were also set to play, making for a desirable line-up for fans of the genre.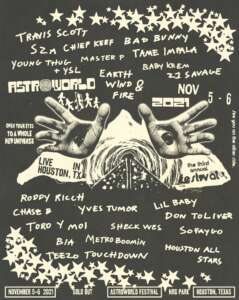 Houston police have been investigating the incident however they have added that organisers of the festival have not provided investigators with clear records regarding their private security personnel's handling of the massive and unprecedented crowd surge during Scott's headline performance. Police said the victims were crushed in a surge of fans near the stage at around 21:30 local time.
ABC Chigaco reported: "It was up to Live Nation Entertainment, the show's promoter, to secure two mosh pits in front of the stage Friday night at the sold-out festival of 50,000 people, Houston Police Chief Troy Finner said at a news conference. He described staffing records handed over by organizers as "just not good" but emphasized that he was not placing any blame."
There has been a lot of controversy surrounding the tragic incident, with fingers being pointed in a number of different directions. For example, Scott's legal team have drawn attention to the operational plan for Astroworld that suggests that only the festival director and executive producers have the ability to completely halt the show. They added that "neither of which is part of Travis's crew".
Despite this claim, what really isn't sitting well with the public is the fact that Scott continued to perform for almost 40 minutes after a "mass casualty" event was declared, eventually ending the set about 15 to 20 minutes ahead of the advertised time. This has left a bad taste in people's mouths as the question of just how aware the rapper was of the danger fans were facing is hard to know for sure. The artist's reputation for inciting fans to "rage" at his concerts has certainly not done him any favours.
Viewers have also been horrified after video footage has emerged from the festival showing fans dancing on top of emergency vehicles as responders desperately try to make their way through the crowd to critically-injured audience members.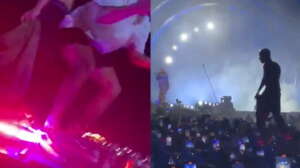 In the wake of the tragedy, the focus seems to shifting swiftly on to the topic of how organisers can prevent an incident as tragic as this from ever occurring again as safety is of the upmost importance for festivals to get the go ahead.
Our thoughts go out to the families affected by this horrible event and we pray that something like this is never to be repeated again.
We hope you have a good weekend everyone.
Warning: This video contains images that some viewers may find disturbing. Viewer discretion is advised.
Written & Researched by Max Dervan
What's your reaction?
0
cool
0
bad
0
lol
0
sad